ADA Signs / Braille Signs / Handicapped Signs

ADA Signs :: Braille Signs :: Restroom Signs :: Handicap Signs :: Tactile Signs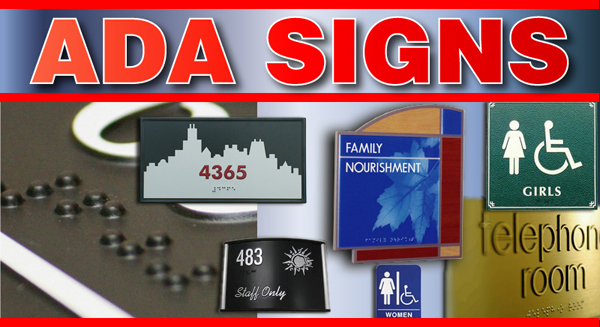 SignWire.com can assist you in meeting the Americans with Disabilities Act (ADA) of 1990 sign requirements. All types of facilities including government buildings, hospitals, schools, retail stores and office parks are expected to be ADA Signs compliant and accessible to everyone.
SignWire.com offers a wide variety of choices in high quality ADA compliant directional and graphic signage including Restroom Signs and Handicap Signs. You can select from either cost-efficient plastic or metal designs for Braille Signs and Tactile Signs. If you prefer, our designers can accommodate your custom ADA approved design. We guarantee that all of your ADA Signs and Braille Signs will be aesthetically pleasing.

---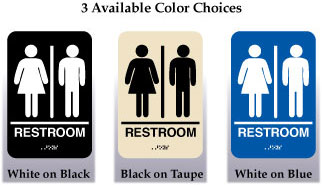 This standard braille signage makes it easy for everyone to comply with ADA laws. Plastic ADA Signs are made of high impact styrene that can be used outdoors as well as indoors. All pictograms, borders and lettering and braille are raised 1/32″ high and all Handicap Signs have 1/2″ radius corners and double face adhesive backs. Letters are 11/16″ tall, overall sign size is 6″x9″. ADA Signs are available in black/taupe/blue. Custom orders are available.
---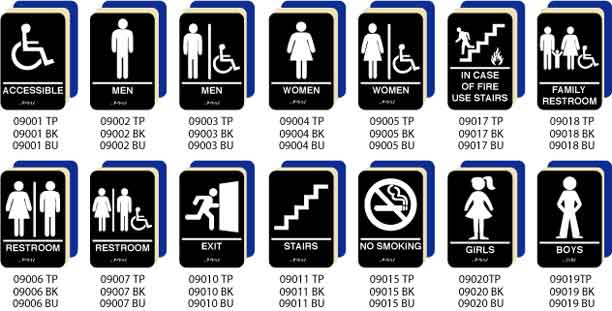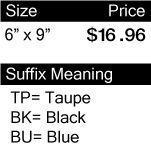 ---
Don't let the requirements for ADA Signs and Restroom Signs be an eyesore. SignWire.com has ADA compliant plaques available in solid aluminum, bronze and brass. They are available in the standard 6″x8″x1/4″ with a stipple or sand background-or your own custom design. These upscale ADA plaques and Tactile Signs are perfect-every time.
---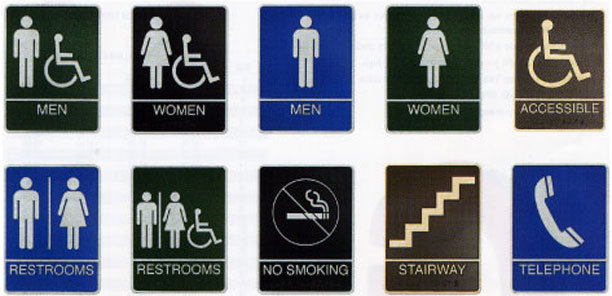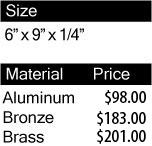 ---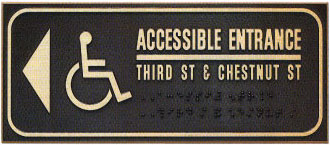 Our plaques come in either bronze, brass or aluminum. The above sample is 12″x28″. The cost would be $918.00.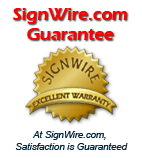 Areas that require special ADA signage include:
Accessible parking spaces
Accessible entrances
Accessible restroom and locker rooms
Wheelchair accessible areas
Elevator sign information
Stairs & Exits
---
---
Call us today at 1-800-922-6189 to speak with a live signage representative, or request a quote online and a SignWire.com representative will contact you within 24 hours to get you the information you need for your channel letters.
SignWire.com
2781 Thunderhawk Court
Dayton Ohio, 45414
(937) 428-6189

---