Full Color LED Displays :: Outdoor Digital Signs :: LED Digital Signage :: Video LED Displays :: Electronic Digital Signs
SignWire.com has a complete assortment of Full Color LED Displays. These Outdoor Digital Signs are produced with the highest quality in the industry and are always available for immediate delivery.
It is important that all Video LED Displays have a good pixel count (resolution) for clarity and sharpness. SignWire.com recommends no less than 16mm for all Full Color LED Displays for outside use.
SignWire.com easily accommodate large custom Electronic Digital Signs for billboards, airports, parking garages and highways. LED Digital Signage is becoming more and more popular with religious institutions of all faiths, schools and universities, sports arenas, financial institutions as well as all types of businesses. The standard Changeable Copy Signs are rapidly becoming a thing of the past.
All of our Full Color LED Displays are vivid and eye-catching-even in the glare of of the bright afternoon sun. Call (800) 922-6189 to speak with one of our LED Digital Signage experts or submit a request online for a digital LED sign to receive additional information.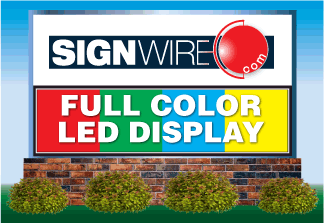 ---