LED Message Centers/Monochromatic Displays

LED Message Centers :: LED Message Boards :: Programmable LED Displays :: Programmable LED Signs :: LED Message Displays
SignWire.com has a full selection of LED Message Displays in stock for immediate delivery. You can choose monochrome lettering in either a brilliant red, amber or green. Programmable LED Displays are rapidly replacing the old style Changeable Copy Signs all over the USA. The reasons are simple:
LED is much more energy efficient vs. fluorescent bulbs (up to 70% savings).
LED is much more visible both day and night vs. fluorescent bulbs.
LED is much more maintenance free vs. fluorescent bulbs.
LED messages are programmed via wireless or direct connect vs. manual change outs.
LED messages can be programmed up to a year in advance.
All of the SignWire.com Programmable LED Signs operate on a GPS antenna format to ensure that your time is always correct. Also included with all LED Message Boards is an internal high operating temperature probe and no data cables are necessary. SignWire.com can assist you with a first rate installation team to guarantee that your new LED Message Displays units are installed quickly and correctly.
Call (800) 922-6189 to speak with one of our Programmable LED Signs experts or submit a Request Online LED Message Center Quote.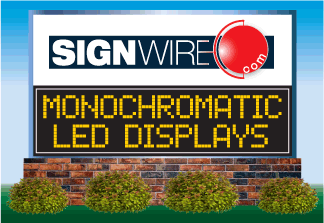 ---