Flat Cut Metal Letters :: Bronze Letters :: Brass Letters :: Copper Letters :: Aluminum Letters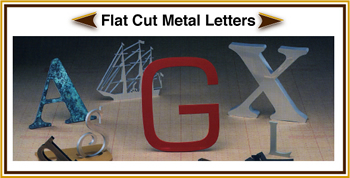 SignWire.com offers Flat Cut Metal Letters in a natural style and beauty as ancient as our desire to create. Water jet cutter and computer-driven routers cut each piece of metal to precision for Aluminum letters, Bronze letters, Brass letters, Copper letters and Steel letters. These highly engineered manufacturing systems give you the opportunity to cost-effectively add a matching custom rendition of your logo or special graphics.
Call (800) 922-6189 to speak with a SignWire.com sign expert or submit an online request for a Dimensional Letter quote.
Waterjet vs. Router:
Water Jet Cut, Flat Cut Metal Letters and Logos are made using a fine, high-pressure stream of water that carries an abrasive mineral. This fine stream cuts and allows for sharp (.030 radius) inside corners, small letters, and intricate detail on logos. Router Cut, Flat Cut Letters and Logos are mechanically routed out of flat metal stock. Based on the material thickness and letter size, a 1/8″-1/4″ router bit will be used. As a result, inside corners will have a slight radius. Both methods of cutting allow the same finish after being cut.
SignWire Flat Cut Metal Finishes
---
**Note: These color sample illustrations may vary in shade from monitor to monitor. SignWire.com cannot be held liable for any monitor color variations.
Sample pieces with your preferred standard color are available upon request for an additional fee. SignWire.com does guarantee that sample colors will match the final product.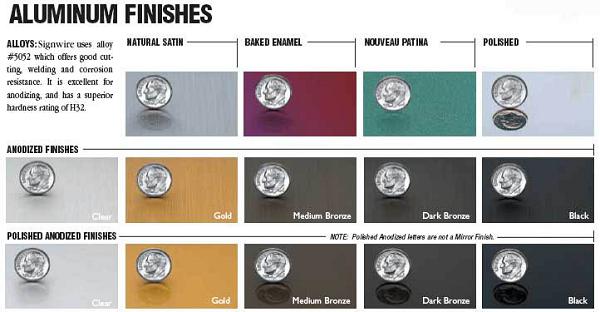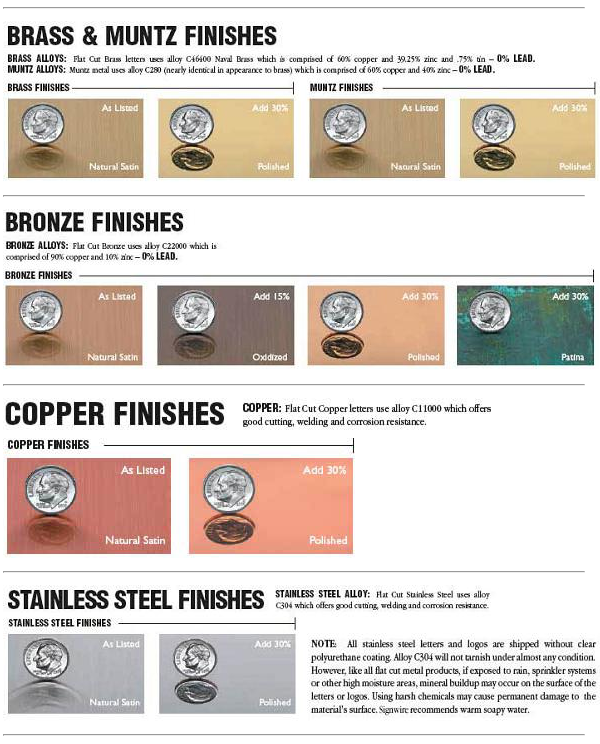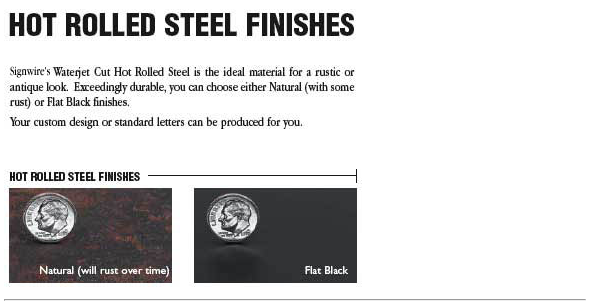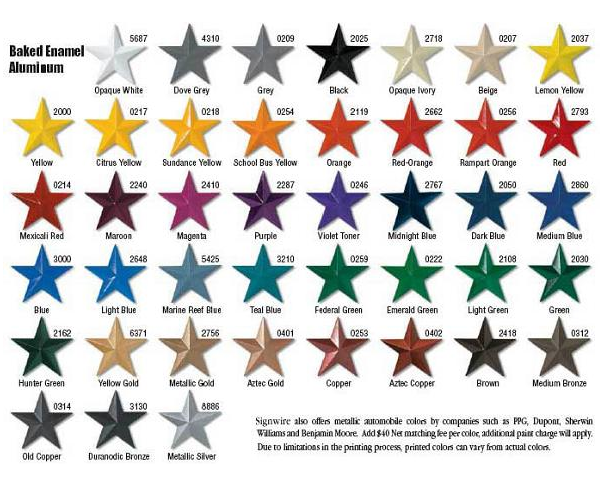 SignWire Typestyles
---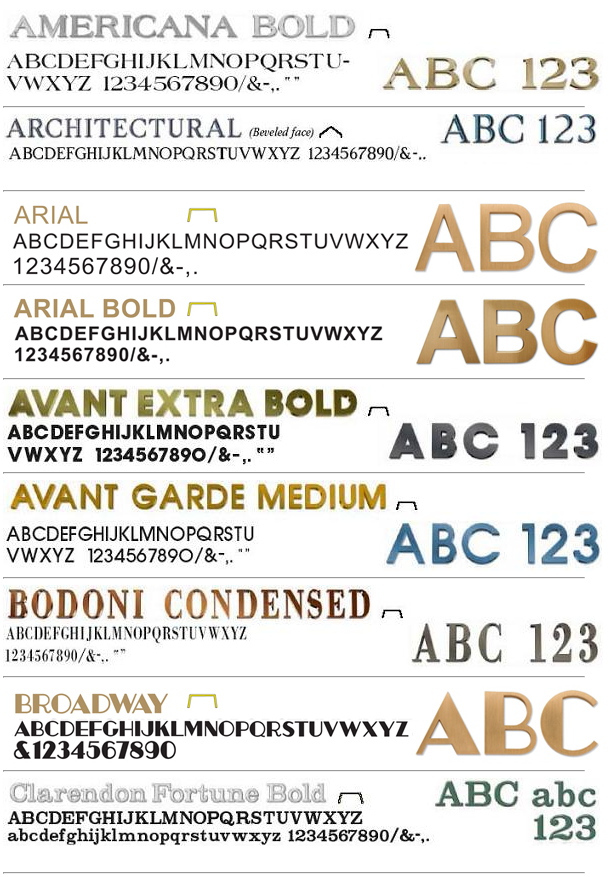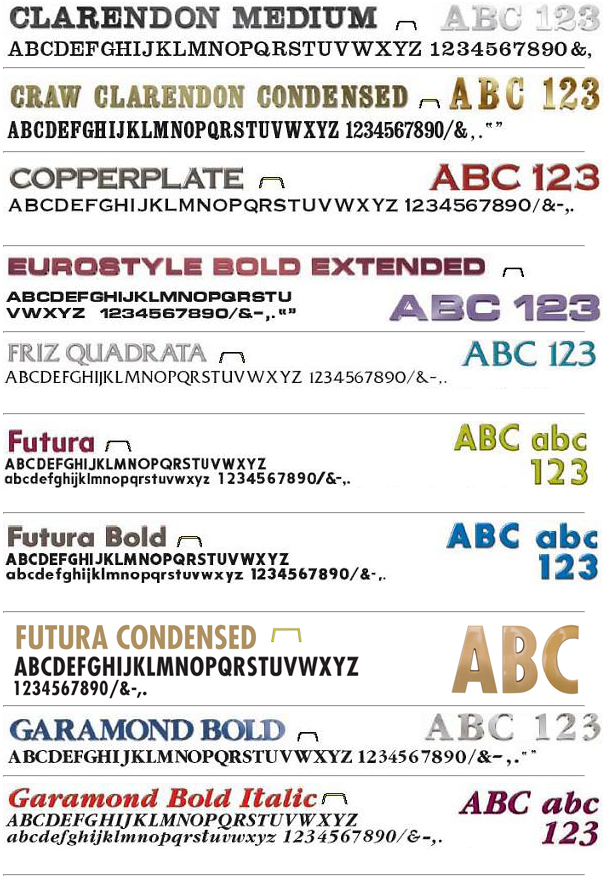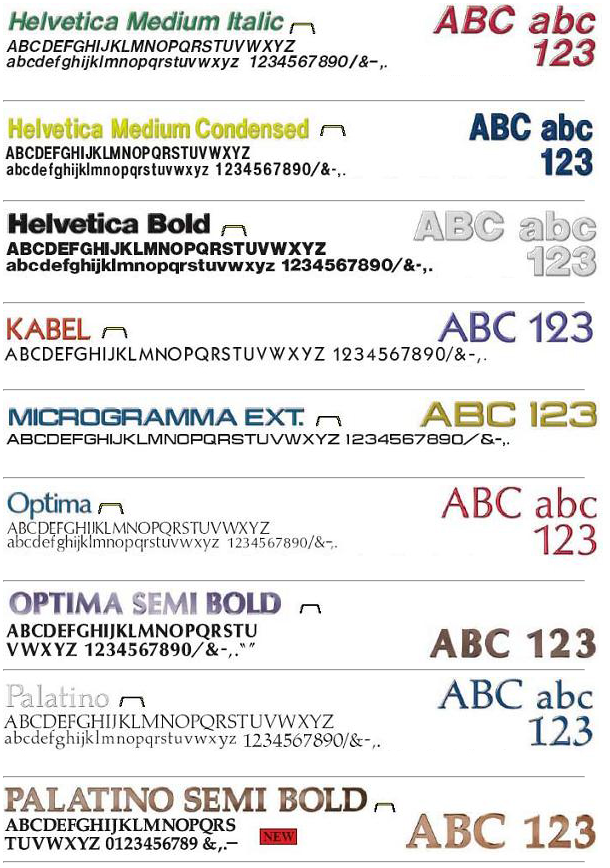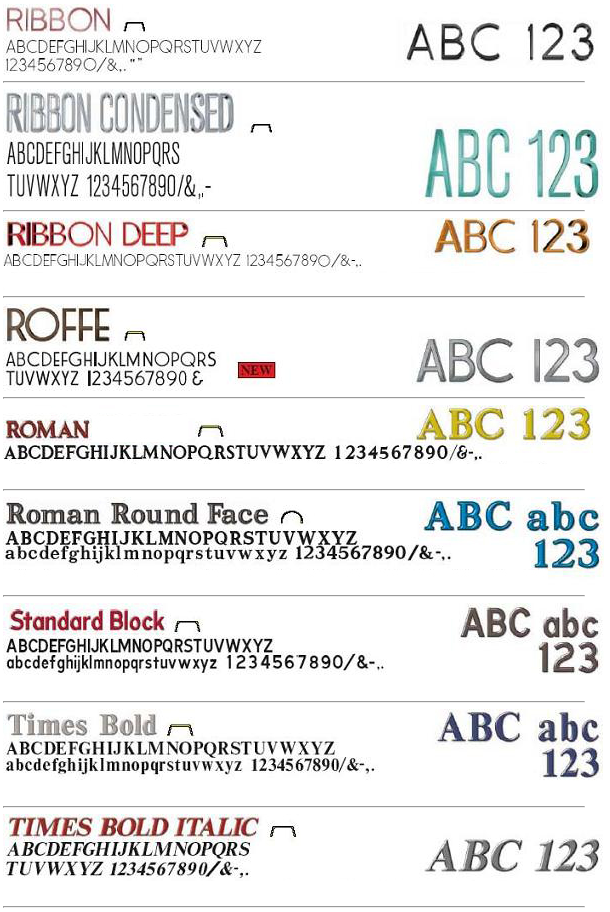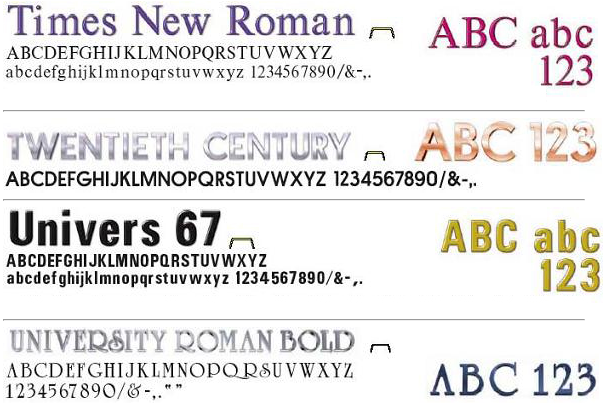 LIFETIME GUARANTEE

Our dimensional letters are the highest quality available and come complete with a lifetime guarantee. Dimensional letters for outdoor use are made from materials such as acrylic, wood, and aluminum to ensure years of durability and service. We stand behind our craftsmanship, quality and value, thus providing excellence wire to wire.
Dimensional Lettering Return Policy:
All sign letters, whether custom or in a listed font can be returned for 50% of the original purchase price. Shipping will not be refunded.
All dimensional letters are manufactured or painted specifically to customer's specifications. This is the reason only 50% can be refunded.
Please be sure to make selections carefully so as to avoid future problems. If returning an item you must call to be issued a return authorization number. No refund will be given until the item being returned has been received by SignWire.com.
If an item is visibly damaged from shipping, please DO NOT ACCEPT the package if it needs to be signed for. Otherwise please contact SignWire.com immediately upon receipt of damaged goods for further instructions. If damage was done before the item was received by the customer a 100% refund or rapid replacement can be given in most cases for your Gemini letters.
Items must be returned within 30 days for a credit to be issued.
Font choice, color & sizing are all the responsibility of the customer. SignWire.com cannot be held responsible for dissatisfaction in these areas.
---
Call us today at 1-800-922-6189 to speak with a live signage representative, or request a quote online and a SignWire.com representative will contact you within 24 hours.

---