Sandblasted Signs / Etched Glass Displays

Sandblasted Signs :: Routed Signs :: Etched Glass :: HDU Signs
A Sandblasted Sign from SignWire.com is an excellent way to communicate your message. A well designed and professionally produced Sandblasted Sign creates a distinguished sense of style that makes a powerful statement. Textures and techniques are developed to suit any design. Integrity behind these classic Sandblasted Signs as well as Routed Signs can create some beautiful results. Also, check out some of our amazing Etched Glass samples at the bottom of the page by our Senior Craftsman, Dan Holihan.
The sales team at SignWire.com is committed to giving every customer the finest service at a competitive price. Call (800) 922-6189 to speak to one of our highly qualified sales representatives to design the perfect Sandblasted Signs for your business or home-or Request A Quote Online to receive additional information.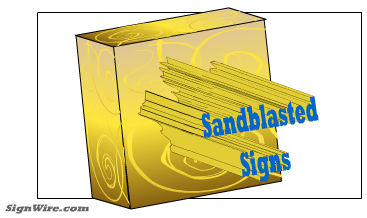 Common Uses for Sandblasted Signs
Click Category To View Sample Photos.
HDU vs. Redwood & Cedar
---
Redwood and Cedar have long been the standard substrate options for the sandblasted industry. Over the last ten years or so, a new standard in long term customer satisfaction has led the industry to develop a better material. High Density Urethane, or HDU, is a foam material that technicians are discovering to be a superior replacement for the natural woods.
Today, "Sign Foam" and "Precision Board" are brand names for High Density Urethane foam manufactured with standards for the sign industry. This is not to say that redwood sandblasting is going by the wayside but, these natural woods are becoming increasingly difficult to get. Also, they are becoming cost prohibitive.
Factor in that HDU offers a variety of advantages over redwood and it is easy to justify why SignWire.com utilizes this wonder foam in approximately 95% of our sandblasted signs. Finishes will last longer simply because HDU is impervious to water-meaning absolutely no moisture concerns. Some finishes in redwood and cedar can dull due to shrinking and swelling over time.
---
HDU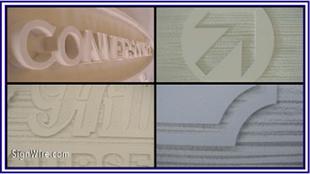 -Advantages
Very Strong

Unaffected by Temperature

Completely Waterproof

Easily Fabricated

Will Not Split or Crack; Sturdy

Will Not Rot, Decompose or Breakdown
-Disadvantages
Larger samples may need back-bracing material for additional support
REDWOOD/CEDAR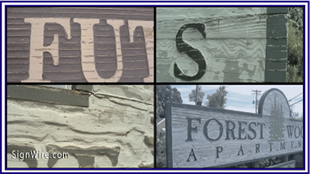 -Advantages
Solid, natural material

Unique quality appearance that cannot be obtained through other materials

Long term use
-Disadvantages
Costly and difficult to obtain

Weathers easily and quickly

Larger signs will have to be spliced together and braced

Brittle areas are more likely to snap

Seal breaks
---
Sandblasted Texture Options
---

Popular Sandblasted Sign Sizes & Sample Pricing
---
SignWire.com can sandblast any sign to your specific size and shape. Here are a couple samples that represent our most requested sizes and shapes, as well as sample pricing.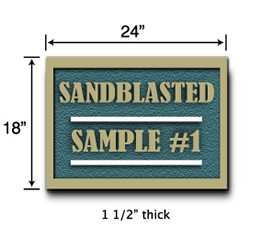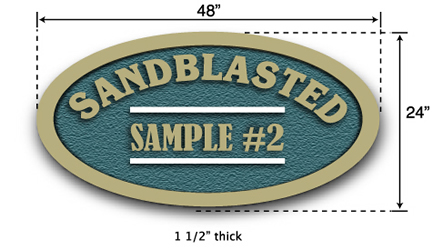 ---
Sample #1
HDU Single Sided = $366.40
HDU Double Sided = $523.20
Cedar Single Sided = $536.00
Cedar Single Sided = $766.40
Sample #2
HDU Single Sided = $915.20
HDU Double Sided = $1,310.00
Cedar Single Sided = $1,340.80
Cedar Single Sided = $1,916.80
---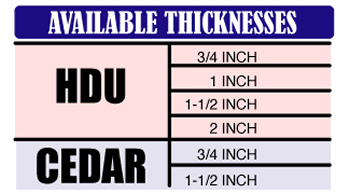 PRODUCT WARRANTY: All HDU sandblasted signs carry a full two year warranty. All Natural woods (Redwood and Cedar) carry a limited one year warranty.
RETURN POLICY: All Sandblasted orders are custom made and are non-cancelable once production has been started. Please carefully check all proofs and sales quotes/specs prior to production to confirm sizes, designs, spelling and colors. See Warranty page for additional info.
INSTALLATION: The end user is responsible for installation of signs.
Sandblasted Signs vs. Routed Signs
---
Sandblasted signs usually have the lettering and design masked off. The surrounding background area is sandblasted out. This gives the masked areas a 3D effect. Adding detailed painting to this raised section of material really makes the sign. A sandblasted sign will also emphasize the differences in the wood grains.
Routed signs have that same lettering or design cut (usually beveled) into the surface of the material. This reverse look gives the background the raised look. Routed signs are usually less expensive than sandblasted signs.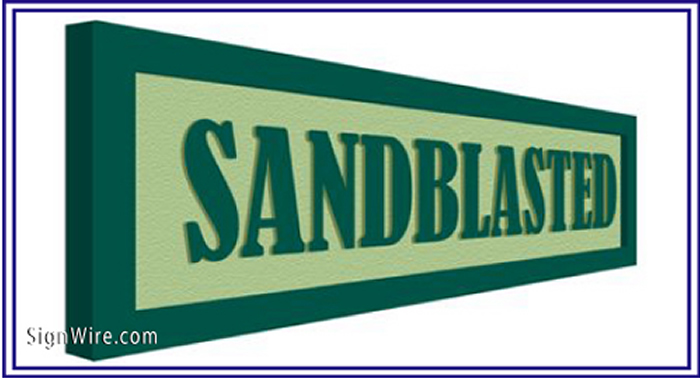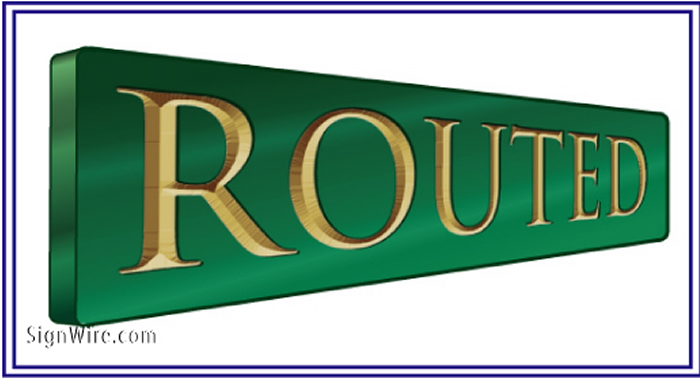 Sandblasted (Etched) Glass
---
SignWire.com can make beautiful sandblasted glass pieces. They show depth and detail in a unique way. For more information please call 1-800-922-6189.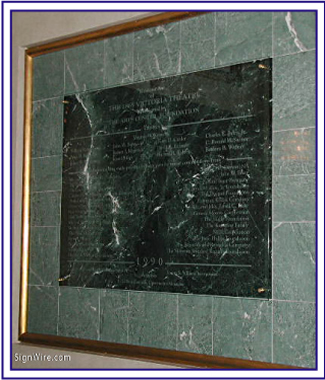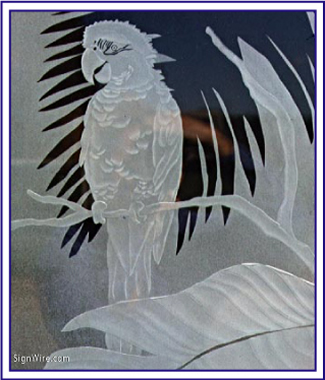 ---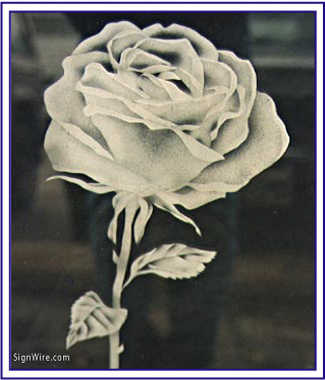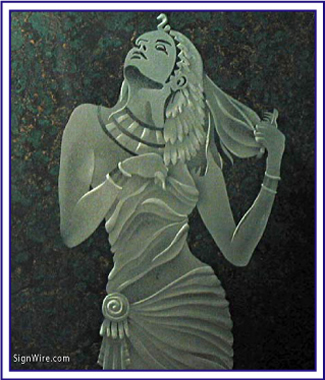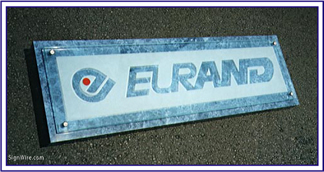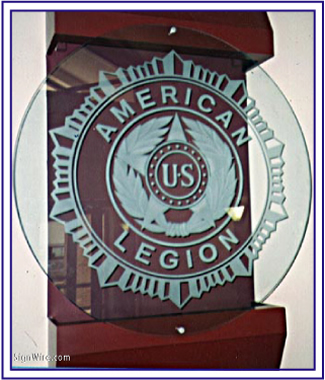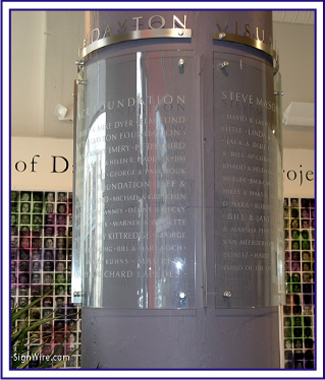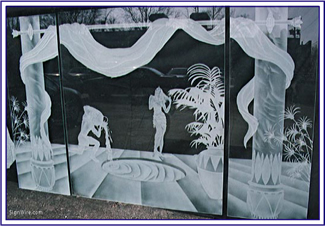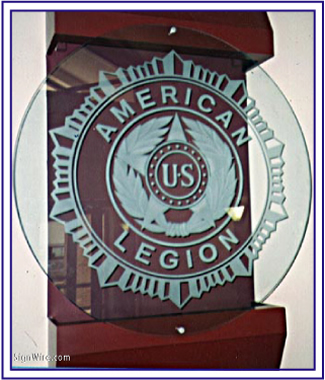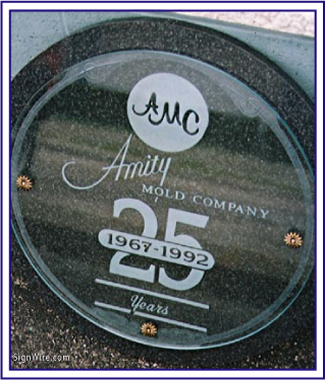 ---
---
Call us today at 1-800-922-6189 to speak with a live signage representative, or request a quote online and a SignWire.com representative will contact you within 24 hours.
SignWire.com
2781 Thunderhawk Court
Dayton Ohio, 45414
(937) 428-6189


---